Name:
Kaito Saiyuka
Age:
28
Gender:
Male
Epithet:
White Eyes
Place of Birth:
East Blue
Species:
Human
Allegiance:
Marine
Crew:
Marines?
Bounty Collected:
60,000,000
Role(s):
Swordsman/Commander
Jolly Roger/Flag: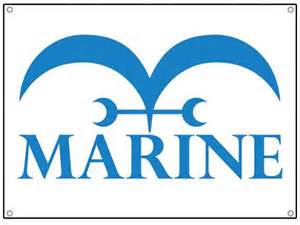 Ship:
Basic Marine Ship
Dream(s):
To be able to see the stars
Find love
Become an Admiral
Bring down a famous Pirate
Live a Life of Adventure
Character Appearance:
Kaito having been born blind has pure white eyes, not a single drop of color in them. He stands at 5'9,His skin tanned by the sun from always training outside. His hair is always a dark blue mess  he has a black tattoo on the right side of his face. He is often seen with a small smile on his face.
He often wears a black t-shirt with white sleeves and a white circle along with black jeans and a white belt underneath a long white and blue coat with dark blue fur around the collar. And dark blue flip-flops on his feet.
He carries a normal katana that he uses often but also a cane he uses that hols a long blade inside it that he uses on more powerful enemies.
Character Personality:
Put here how the character acts in certain situations. Such as around romantic situations, around friends strangers etc. Please write at least 3 lines.
Kaito is a rather laid back and quiet man, often enjoying training or napping then fighting, but will never turn down a fight. He will often treat his opponents in a laid back way rarely ever getting serious in his fighting.
But once he begins to take things seriously or even worse becomes angry he can becomes quite frightful. He is often very kind towards women and children and will often punish those who shows no respect towards them.
He will eat anything that is offered to him but prefers cold sweets and food the most.
Character's Background:
Born to a family of high ranking Marines, Kaito's path in life was set long before he was born. What his parents hadn't been counting on was Kaito's blindness, disgusted and ashamed of their son he was give to his Uncle, a kind old man who had retired after many long years of service in the marines.
From the time he was a small child, Kaito was pushed to the very limits in his training leaning that because of his blindness his other senses became stronger, And he quickly learned to use them to his advantages.  He wishes to show the world that just because you are blind doesn't mean you are helpless.
When Katio was in his teens he would often visit a local café that severed sweets, and one day while there he ran into a group of pirates, who had been harassing the local shopkeepers.
Against all odds Kaito was able to beat the pirates, but not without wounds. After that day Kaito trained harder and harder until finally was able to get a low job into the marines and slowly worked his way up into the ranks. In recent years Kaito has picked up a nasty habit of smoking cigarettes, often seen having one lit or on his person at all times.
Skills:
This is where any abilities of the user go such as fighting styles, burping the alphabet, singing, dancing, navigational skills etc. Please make sure the skills listed here are here for a reason explained in the background.
Beasts Hunger: Because of his intense training Kiato is always hungry and will never turn down any food offered to him.
Blind Man's Sight: Using a mixture of echolocation and the vibrations in the earth Kiato is able to sense where a person is to a point. It is the closest thing he has to being able to see.
Iron Will: Because of his past upbringing Kaito will never give up on something he has set his mind too.
Fools Path: Kaito can often become lost easily when on Islands he isn't used to being on. But this often leads him on adventure others often miss out on.
Combat Techniques:
Put down all the techniques your character uses such as Luffy's Gomu Gomu Pistol and describe the technique too, just so we know what the character does.
Flaming Seven Ton Dragon: One of Kaitos more powerful attacks he uses both his katana and his Cane sword. Spinning quickly while scraping the swords upon the ground to heat the blades he launches himself at the enemy swinging his swords in and X like shape that often not only leaves deep cuts but burns from the heated steel.
Devils symphony: Using his katana Kaito sends a multitude of wind blades at the enemy often leading to death by blood loss.
Demons Unholy Call: Using his cane sword Katio creates a tornado of wind blades that can slice through flesh like paper when receiving the attacks full force.
Inventory:
Put anything your character has here including weapons. Just remember any character or crew specific weaponry will need a weapon application too.
A normal Katana
A black cane-Sword
His blue and white Coat
Pair of black Sunglasses
A pack of cigarettes
A dark blue lighter with a silver cross on it.