[size=29] Leo Hazuyaki [size]
Name:
Leo Hazuyaki
Age:
25
Gender:
Male
Epithet:
Raging Lion
Place of Birth:
Hakaba Island
Species:
Human
Allegiance:
Pirate
Bounty:
0 beli
Role(s):
Swordsman
Dream(s):
Become a powerful Swordsman
Drink a lifetime of Sake
To die laughing
Get a bounty over  100,000,000 beli
See his little sister truly happy
Character Appearance: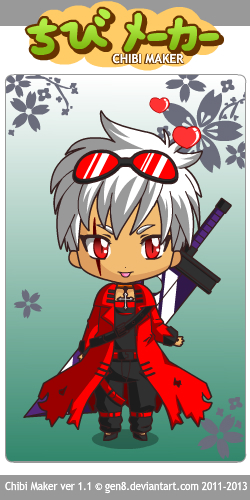 Standing at 6'1 Leo would be a rather intimating figure, if it wasn't for his girlish looks. His skin tanned and muscular, from many years of fighting and training. His eyes cat-like, as red as the blood of his enemies. His hair always tossed by the wind and shining silver that shines like a thousand stars in the sunlight.  He has a dark scar over his left eye that he had gotten at a young age.
He wears a black tank top underneath a long sleeved coat that his sister made for him when they were young. He wears a pair of red goggles on his head unless he is fighting, because he has found that many enemies like to throw dirt and sand into his eyes.
On his back he wears a large purple Sword, given to him by someone he cared deeply for. On his neck he wears a orange collar that has a white cross hanging from it, given to him the day his sister left their home.He often has a flask of some sort of alcohol strapped to his hip.
Character Personality:
Leo is often prideful and a hothead, but he knows when to ask for help when he truly needs it. He can be a bit touchy about his looks. Becoming quickly enraged if called a girl or a pretty boy.
But Leo also can be a kind caring person who would risk his life for the people he loves , He often enjoys drinking and fighting, often staying up for days to just train. He also has a soft spot for kids.
Character's Background:
Leo's couldn't remember much from his childhood, pieces of things like a light, an incredibly bright light, and the icy touch of cold steel on his back. He would never forget seeing his little sister Crow for the first time she was so small…He promised himself he would always be there for her, always.
He protected her from the other patients who teased her because of her size and would be there if she woke up crying in fear. But as the years went by he learned how to fight to not only protect her but himself also. As he grew older he grew stronger but his girlish features stayed the same. After a few years her watched as Crow fell for the man they all called "Doctor" He didn't like it but she was happy.
He moved into the nearby village for past patients and would visit Crow when he wasn't training. He was the one who found her after the fire, took care of her for the weeks after. Trained her, helped her cope with her anger and was there the day she set sail on her journey, her wearing the collar he had given her and the cross choker she had gave him. He spends his time training and protecting the village from harm as he watches the sea for his little sisters return.
Skills:
Swordsmen's Sprite – Because of his huge pride Leo will always take on a challenge, no matter how big.
Kind Heart- Leo will often offer help to those who needs it, this often ends up with him having  good luck when he needs it.
Flaming Courage- Leo will often stand up to many criminals who bully the weak and helpless, gaining the respect of many.
Lions Strength – After years of harsh grueling training Leo's body has become stronger and tougher.
Combat Techniques:
Lion's Roar –Swinging his sword downward with such force causing a large wind blade to go flying at the enemy.
Lions Fang- Swing his sword from left to right and then right to left creating an X-shaped cut upon the enemies chest from shoulder to hip.
One thousand pound Dragon- Spinning his giant Sword above his head Leo jumps high into the air, then using the weight and momentum of the sword brings it down onto the enemy with such force it can create shock waves.
Inventory:
Put anything your character has here including weapons. Just remember any character or crew specific weaponry will need a weapon application too.
Demon's Fang
A pair of red and black Goggles
A flask of alcohol
A cross choker with a picture of a young Crow inside.
A tattered and worn old coat